Do You Have A Construction Project We Can Help With?
Our Business
Since our inception in 1985, Pillari Bros. Construction Corp. has been a trusted name in the construction industry.
Pillari Bros. Construction Corp. is committed to deliver the best in site improvement and heavy construction services to each and every one of our clients. It is through our Corporate Culture our Values and Vision that we intend to cultivate and maintain strong, long term business relationships. Our clients, regardless of size, demonstrate a cross-section of the businesses we represent.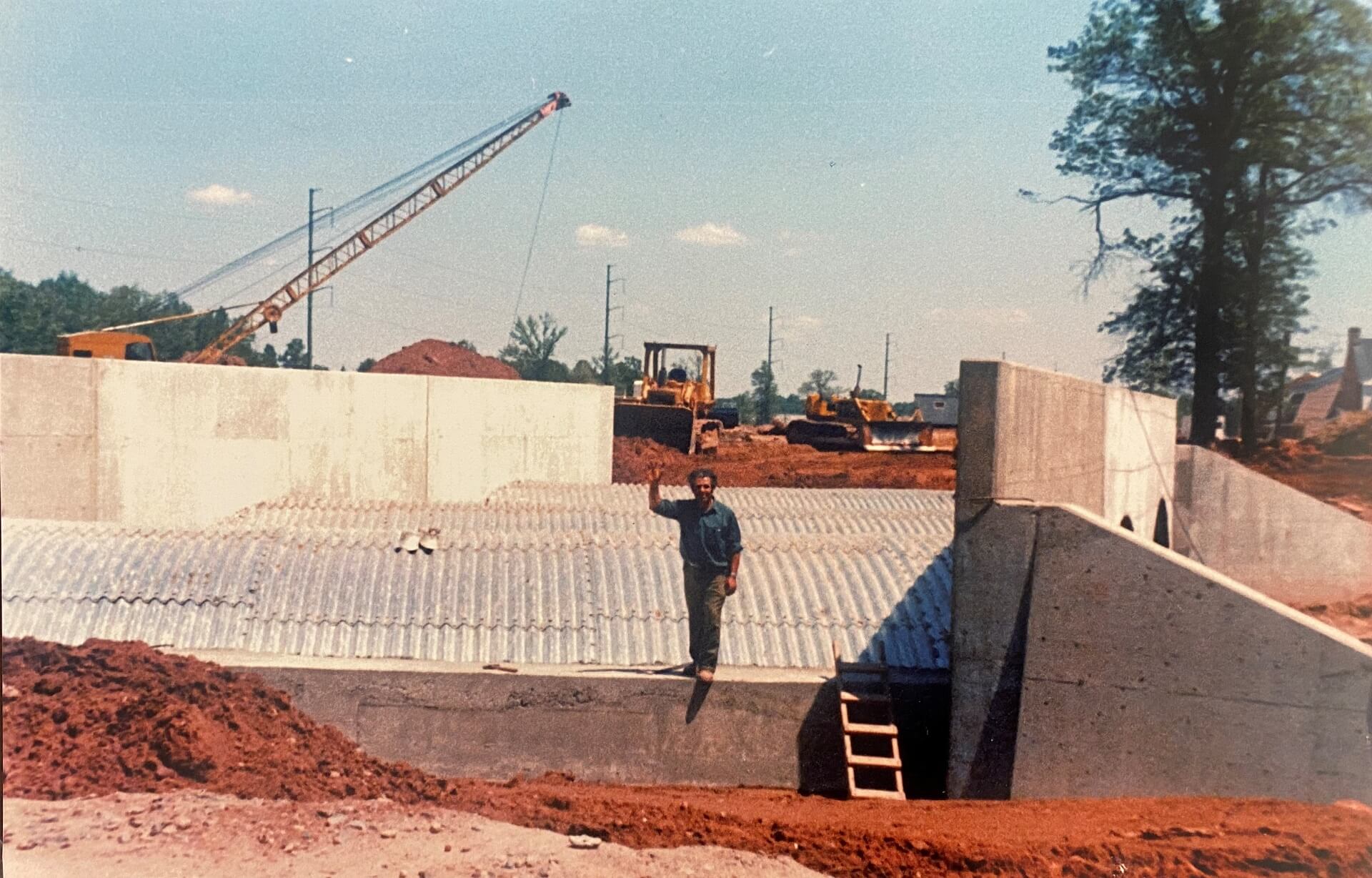 "Heavy Construction has been in our family for a long time! Pictured above in 1980 is our father, Joe Pillari, then Vice President of J&D Pillari, on an Armco Maxi-Span triple arch culvert spanning a section of the Rahway River in Scotch Plains, NJ. At that time, this culvert was one of the largest installed on the east coast."
Our customers include
General Contractors / Construction Managers
Our history in the public sector includes
Townships

Counties

Municipal Utility Authorities

Consulting Engineers who represent governmental agencies
It is with honesty, integrity and ethical business practices that we have earned our reputation for delivering our commitment to our customers. View our satisfied client testimonials and pre-qualifications.
Professional Staff & Superior Technology Systems
Pillari Bros. Construction Corp employees are trained the Pillari way, driven by a spirit of excellence, dedication, integrity and results. It is a mixture of skilled craftsmanship, experience and professionalism that our clients depend on.
Our team of construction professionals leads Pillari Bros. Construction Corp. in the strategic planning of their projects. Accountable for developing and maintaining our client base, growing our business and producing quality results – these employees are committed to our clients satisfaction.
By assisting our clients with managing the financial position of their construction budgets, we become a turnkey site management partner.
With our sophisticated estimating and management information systems, we are capable of obtaining real-time construction costs. These reports help us manage your projects costs, provide timely and accurate information to monitor and maintain tight budgets. These fully integrated tracking systems have been developed by using the latest in hardware / software technology.
Cost Competitive
Competitive pricing and the ability to predetermine accurate total project construction cost is crucial to our clientele. We combine our actual and extensive field experiences with sophisticated computer estimating and bidding software to provide our clients with a comprehensive scope of work, stable forecast of the project total cost and the right price.
With business partnering agreements, value engineering, on-site evaluations and innovations, the Pillari team works to keep your project at or below those forecasted costs and assist in the management of your construction budgets.
Planning For Performance
We generate a strategic plan so we can execute our clients construction project efficiently and effectively. From having the appropriate people to the correct equipment and resources, in the right place, at the right time, Pillari Bros. Construction Corp. plans for performance, PRIOR to the start of the job.
Our project superintendents are experienced in site work management and scheduling work-plan activities, so project milestones and deadlines are achieved. Our workers are trained and highly skilled at their specific trades.
We own, operate and maintain a massive fleet of modern heavy and light equipment. Our fleet is of advanced technology and kept in excellent operating condition. The fleet is scheduled and transported from site to site as needed. This way, schedules are maintained and projects are constructed in the most efficient and productive manner.
In addition, we count on strong relationships with subcontractors and vendors. They are of high quality standards, good business ethics and, most importantly – are reliable. They are considered part of our team.
Pillari Bros. Construction Corp. is ready, willing and able to start and finish your project – on time and on budget.
Tell Us About Your Project